Satsang is a Sanskrit word which means coming together in truth. Satsangs can take many forms but the purpose is to create a space in which we can open to the wisdom of the heart and settle the mind in order to know truth in each of the cells of our being. Satsang  will be a chance to hear guest speakers and story-tellers, to meditate in silence together and/or to explore devotional singing and the use of sound to connect with that awareness of truth and our highest wisdom and let go of the conditioning and beliefs that no longer serve us.
Guest speakers who have great wisdom and compassion are periodically invited by Heart Space to share their wisdom. This includes well known and less known speakers from around the world who have demonstrated through their lives and teachings a commitment to the awakening of the human heart.
Upcoming satsangs:
Giving Thanks for Mother Earth: A Multi-Faith Worship Service
October 12th 2019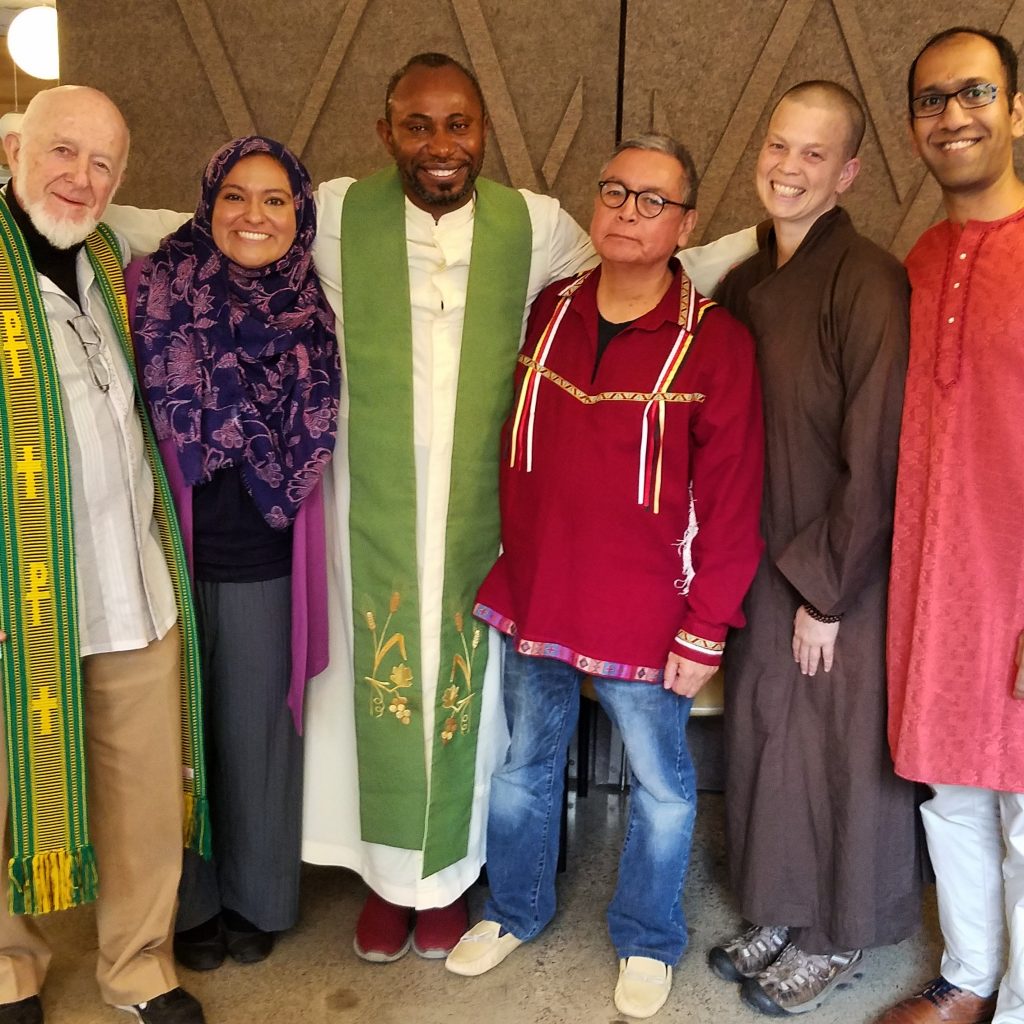 The Multi-Faith prayer service is an integral and participatory worship service focusing on the theme of Thanksgiving for Mother Earth as shared by leaders of six different faith traditions. It will be led and facilitated by Father Charles Ogada (scroll down to Satsang with Father Charles to learn more about this inspiring spiritual luminary and humanitarian champion). Participants will be led in chanting, prayer, and readings as well as silent meditation to experience the deep well of gratitude that we are capable of holding for the life-sustaining force that nurtures us all and that flows through our very being.  Through this service participants will experientially feel the love and gratitude which is common to all faith traditions.
Time: 9am – noon
Date: October 12th 2019
Location: 80 Dundas St. E (John Frank Place)
RSVP to: MYIM@heartspace.ca
We are very excited that after the multi-faith service this year, Aangen, a not for profit social enterprise organization that serves the Toronto community by addressing human needs as they arise in a timely and holistic manner, will be running a Thanksgiving Walk to Heal Hunger. They will also be providing us with a Thanksgiving lunch following the service. Humans, animals and other creatures are all suffering from inadequate food and shelter in this era of inequity and environmental destruction.We give thanks for our most resilient and abundant Mother Earth who sustains us all and for our Indigenous teacher and guides who are pointing us back towards a more wise and holistic understanding of our place on this earth.
Participants in the Multi-faith service are most welcome to register and join the walkers in the afternoon, or to join for the lunch after the Thanksgiving for the Earth Multi-Faith Service.
If you intend to join for the lunch or to join the walkers please go to:
https://www.aangen.com/events/
Satsang with Father Charles Ogada
October 13th 2019
Heart Space invites you to encounter your authentic, creative, peaceful Self!
Father Charles Ogada was born and raised in Nigeria and began to have unusual spiritual experiences from his childhood. After excelling as a top student at school, he decided to leave a potential career in medicine to pursue his work of loving service to humanity as a Catholic priest. Challenging religious conventions again and again, he brings a unique blend of Christianity and the Advaita Vedanta philosophy of Hinduism, as displayed in his 2011 book The I Am Principle – The Christ Within. In addition to all of these accomplishments, his study of a wide variety of faith traditions combined with deep spiritual insight have led him to a personal commitment to interfaith understanding.
For those of you who cannot make it to the retreat with Father Charles, we are very fortunate to have him leading us in a morning of meditation, story-telling, and Q+A session in this satsang. It is a chance to let go of your usual way of thinking and drop into joyful presence and beginner's mind. The satsang will be followed by a Thanksgiving potluck! We can't wait to see you there!
Date: Sunday October 13th
Time: 10am -12:30pm
Location: Blue Heron Studio – 57 Devon St., Toronto
RSVP to: MYIM@heartspace.ca