Karma Yoga
Karma yoga is one of the four paths of yoga. "karma" literally means action so karma yoga is the path of yoga which involves action. It has also been understood as the path of selfless service.
If we look closely, in essence, this is the same as doing activities mindfully with the intention of serving others. This is a very helpful and important practice which is also supported in the Western research literature! We can all do karma yoga whether it is in the service of our family members, neighbours, community centre or globally.
So how do we do this? How do we truly offer our actions for the benefit of others in a mindful way?
First, when we take action, we must notice if anything is arising within us when we are given a task. Is there aversion and resistance or perhaps a desire to please? Do we hope for praise or fear condemnation if the job is not well done? Do we have any expectations of how people will respond to our actions? After we have noted our habitual mental patterns, we return our attention to the task at hand. Whenever the mind wanders, we note that it has wandered and come back to the task. From a yogic perspective. we may start to notice if there is a sense of "I" or "self" involved in our activity. This is the ever tricky ego that we are getting a chance to become familiar with. It may even be a chance to relinquish it a small bit. Through this practice we can let go of our attachment to the outcomes of our actions. (how does this benefit us in terms of mental health and as a whole).
In this way, we are practicing mindfulness AND we are contributing to the well being of others and of the community at large.
Upcoming Karma Yoga Opportunities: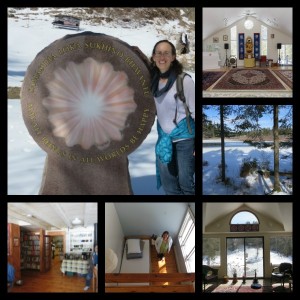 Karma Yoga Weekend at the Dharma Centre May 6-8 2016
Join me at the Dharma Centre in Kinmount ON for a weekend of karma yoga, meditation and Raja yoga (the yoga asanas you are familiar with). The Dharma Centre needs support with their spring clean-up and is offering free accommodation at their retreat centre for those who would like to participate. I will teach one yoga class per day and there will be scheduled meditation sessions.
To register please email shira@heartspace.ca with an expression of interest AND go to: http://www.dharmacentre.org/community-service-weekend.html to formally register.